Different Times Different Tactics
Posted by Buddy Blake on Thursday, February 10, 2022 at 10:49 AM
By Buddy Blake / February 10, 2022
Comment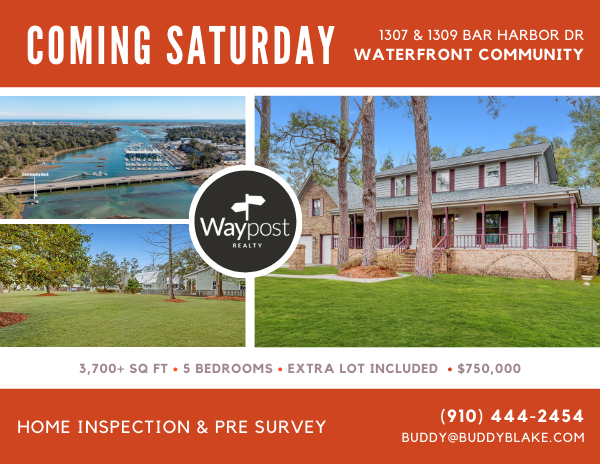 Different Times - Different Tactics
I've been helping home buyers and sellers for over 20 years here in the Wilmington NC area and I gotta tell you... I've never seen anything like the real estate market we have. In Wilmington, we only have 122 single-family homes available, as compared to a "normal" inventory of around 1500-2000 homes at any given time.
So What's The Problem? Well, I don't like to see home buyers not getting a chance to see a property before it gets sold and I don't like to see sellers get themselves in a bind by not having their home fully marketed so they can not just get "A" buyer, but get "THE" buyer that is MOST LIKELY TO CLOSE. We are seeing too many contracts fall out because some sellers are putting their homes under contract with the "wrong" buyer(s), thinking they are "saving money" or quite honestly, getting advice from the wrong people (I'm not talking about active licensed agents).
What Else Are We Doing Differently? In addition to the wrong deals being put together, we are seeing a lot of situations where buyers are simply acting from "FOMO" and not putting their best foot forward because they just don't have enough information to make a real HIGHEST & BEST OFFER, which is made up of timing, price, non-refundable deposits and other things. To help our buyers and sellers, we are offering to our new seller clients to pay upfront for a home inspection, and HVAC and/or Roof inspections if needed. Why are we doing this? It's simple... more and more buyers are making "sight unseen" offers and we know from our experience that the BEST DEAL for all parties is made possible by having as much information to the buyers upfront so they feel more comfortable putting up stronger offers and deposits versus just trying to "tie a property up so someone else won't get it".
Buyers - Get A 90 Day Rate Lock! In a rising interest rate environment, you need to look into locking your interest rate for as long as possible. Paul, in our in-house Waypost Mortgage office (yes, I am part owner in this mortgage company), is able to do 90-day rate locks (depending on your credit and the situation) WITHOUT COSTING YOU EXTRA. If you're not being offered an extended rate lock, shop your mortgage with other LOCAL banks and brokers. If you need a list of local lenders I have had good experiences with I'm happy to send you a list of names and numbers... just make sure you pick the "right" one as we are seeing way too many buyers (and sellers) get into binds by using out of area or internet lenders - always get a 2nd and 3rd opinion - shop your mortgage, especially in these times.